Wondering what you can drink on the keto diet besides water? Well, you are in the right place!
We have a list of 10 low carb drink options that you can easily fit into your ketogenic lifestyle to stay hydrated all year round…
Your number one drink when you follow a ketogenic way of eating has to be water.
Yeah I know – You know that already!
If you started a low carb diet recently, you are probably surprised that you are so thirsty.
That is perfectly normal. Carbs hold back water and when you eat fewer carbs, your body doesn't hold onto the water.
This is also the reason for the fast weight (water) loss in the first few days of a low carb diet.
It is however crucial to remain hydrated and the best way to do that is to drink enough water.
But
What if you are tired of water and are looking for something different?
Well I know how that feels and is exactly why I wrote this article.
Now, looking for keto drinks other than water, really still takes us back to low carb water based drinks.
But, we can spice it up and give it flavor.
So
Let's get to it! But first,
This post may contain affiliate links. I earn a small commission from purchases made through them, at no additional cost to you, which helps me to create this content.
Here is our list of…
The Best Beverages other than Water to Drink on the Keto Diet
1 – Fruit Infused Water
Fruit infused water is a great alternative to plain water and is probably the easiest way to give flavor to your drink.
… and one of the benefits of making these yourself is that you know exactly what is in them.
Another benefit is that you can have the exact taste and flavor that you want.
So what do you do?
Step 1 – Choose your flavor – any low carb fruit or vegetable or herbs. (Experiment with different combinations, until you find a few go-to recipes that you can make regularly without having to think about it.
Step 2 – Add your fruit or vegetables into a large infuser pitcher.
Step 3 – Let it steep in the refrigerator for a few hours.
Step 4 – Enjoy all day…
It is also the perfect on the go drink. Add your fruits, vegetables or herbs into a water diffuser bottle before you go to bed. 
When you do this, you'll always have a tasty ketogenic drink with you whether you are at school, work or traveling.
Your options are really endless, but here are a few of my favorite keto friendly combinations:
Lemon and mint:
I love lemon on its own, but if you are looking for a refreshing drink, add a few slices of lemon and three to four fresh and muddled mint leaves to your pitcher.
Cucumber and mint:
This is another refreshing option. Make it with a few slices of cucumber and a few muddled mint leaves.
Strawberry, basil and lemon:
Add 6 sliced strawberries, 4 torn basil leaves and a few slices of lemon to your pitcher.
Blueberries, rosemary and lemon:
Muddle 10 blackberries, 2 sprigs of rosemary and a few slices of lemon to make this flavorsome drink.
Lime and ginger:
If you are looking for something "stronger" add a few wedges of lime and a small piece of peeled or grated ginger in your water.
Don't let this one steep too long, but if the flavor gets too strong just add more water.
If you like fruity options try any low carb fruit.
I only use berries, lime and lemon as I don't want to add unnecessary carbs through my drinks.
The only vegetable I enjoy in my water is cucumber, but if you like strong tastes, you can also try celery and radishes.
Experiment with herbs and spices. They can give you many delicious options. For instance with the lime and ginger, you can add turmeric.
If you don't have a fruit infused pitcher, use a big mason jar and pour the water through a sieve when you are ready to drink it.
Another thing I like about making a pitcher of fruit infused water or a water sipper, as we'll discuss below, is that it helps me to measure exactly how much water I drink during the day.
Sometimes we drink way less than we think and what we need.
2 – Water Enhancers and Drink Mixes
Here you have three options. The first is liquid drops, the second powdered mixes and the third which is my personal favorite – apple cider vinegar.
Liquid Drop Enhancers
This is an easy way to add taste to your water.
They come in many delicious flavors and many beverage companies are now entering this market, so expect many new products over the next few years.
Many of these drinks however have added sugar or artificial sweeteners that I prefer not to include in my diet.
As always carefully read the labels.
Of all the enhancers I checked out I prefer Stur.
I like it because it has no artificial sweeteners or colorings. It doesn't add any carbs to my diet and they taste great.
Read our review: Stur Natural Water Enhancer
My second choice is Sweetleaf Stevia Drops. They also have delicious natural flavors, that are sweetened with stevia.
Powdered Mixes
Most of the powdered mixes to flavor your water includes some form of sugar or undesired artificial sweetener.
The one option is True Lemon, which is made with crystallized lemon and no additional sweeteners. It really is just lemon, so is convenient when you don't have fresh lemon.
The other category of powdered mixes that you may want to add is more functional and support your body when it is in ketosis.
If you are looking to replace electrolytes and at the same time improve the taste of your water then you'll want to have a look at these mixes.
Again it is a growing market and there are new products almost every month.
One that has been around for a while and that tastes good is Ultima Raspberry Replenisher.
It is designed to replace electrolytes. It is made from clean ingredients with no added sugar and is sweetened with non-GMO plant-based flavors.
For a better priced option, they also sell a 90 servings container that is not individually packed.
Raw Organic Apple Cider Vinegar
This is one of my favorite drinks. I know it is not everybody's cup of tea. Like red wine it is an acquired taste.
I add one table spoon of raw organic apple cider vinegar to a big glass of water. I always have it in my fridge, so it is such an easy option when I am looking to take the blandness out of my water.
If you are new to apple cider vinegar, start with a teaspoon and also don't drink more than two to three tablespoons diluted in water per day.
3 – Seltzer (Plain or Flavored)
It is still water!
But
Carbonated water gives you that soda texture that many people are missing.
I don't drink it often, but it does make for a nice change from plain water.
If you are looking for a flavored seltzer, carefully check the labels. Most of them contain some form of sugar or artificial sweetener.
If you see this as an option, why not buy your own carbonator and then add one of the water enhancers that we mentioned earlier.
4 – Trim Healthy Mama Sippers
If you are following a keto diet, you may not have heard about trim healthy mama sippers before. But if you follow a Trim Healthy Mama program, then you know exactly what they are.
A THM Sipper is really just a healthy sugar free drink that you can sip on all day.
Here are some examples of these sippers.
Good Girl Moonshine – This drink is made with apple cider vinegar, ground ginger, stevia and water.
Black Cherry Limeade – This drink is made with black cherry tea, apple cider vinegar, lime juice, stevia, mineral salt and water.
Many of these drinks are tea based and sweetened with stevia, so give you a replacement for iced tea.
Some of them are designed to mimic the taste of juice or sodas that many people miss when they give up sugar.
Always check the labels of all the ingredients and calculate the macros to make sure it doesn't add more net carbs than you want to.
5 – Bone Broth
This is most likely not the drink that comes to your mind when you think of an alternative to water, but you are looking to remain hydrated aren't you?
So
If you are looking for a drink, that in addition to keeping you hydrated and replacing electrolytes also packs a nutritional punch, then you'll seriously want to consider adding bone broth to your daily hydration routine.
If you want to know why it is good for you, then check out this article by Dr Josh Axe.
But now, let's have a look at where to get it and how to drink it.
The best is to make it yourself. Or check your local health store to see if they sell fresh bone broth.
Or you can buy cartons of broth and have them readily available in your fridge when you want to have a drink.
A popular brand is Kettle and Fire.
It is shelf stable. They package their broth hot in a vacuum environment. It is made with 100% grass fed bones that is sourced from family farms where no hormones or antibiotics are added to the animal feed.
You can buy it on Amazon or from their own website. They sometimes have specials on their own website, so always compare prices.
Another option is bone broth protein powder. There are a number of popular brands on the market. 
6 – Milk Alternatives
With about 12 grams of carbs per cup, milk is not keto-friendly.
Alternative "milk" products include unsweetened almond milk, hemp milk and coconut milk. These all have some carbs, but substantially less than dairy or soy milk.
If you really need to have dairy in your coffee, then use heavy cream in moderation.
7 – Coffee and Tea
Black unsweetened coffee and tea are great beverage choices if you follow a keto lifestyle.
On their own they are keto friendly with most varieties having less than a gram of carbs per cup. They also contain no sugar.
Your challenge comes in if you don't like your coffee and tea black and without sugar.
You'll know by now that there is more than 4 grams of carbs in a 1 teaspoon of table sugar and milk is also high in carbs.
If you do need to add milk to your drink, then try one of the milk alternatives above.
You can also sweeten your drinks with stevia or one of the other carb neutral sweeteners like monkfruit.
Or consider these options:
Coffee
Bulletproof coffee! Read more here on the original Bullet Proof website.
Or for a pre-mixed solution try coffee booster. It is made with ghee, coconut oil and raw cacao powder to give your coffee a super taste without the added carbs. Read our review here.
Another option minus the cacao is Omega Power creamer. Check out our review.
And yes, if you are a Starbucks fan, you can still have your coffee. 
You just need to know what to order! Want to know how, then you'll want to check out this guide on how and what to order at Starbucks by Perfect Keto.
Tea
Personally I like my tea strong with a few drops of milk. Generally I still drink it like that, as I really only add a few drops of milk.
If you normally drink a fair portion of milk in your tea, consider the milk substitutes above.
Other tea options you can consider are herb teas like Rooibos tea which is a South African herbal ea. Add a slice of fresh lemon and enjoy.
8 – Hot Chocolate
There is no reason why you can't enjoy a delicious cup of hot chocolate on a cold winter night.
Just don't add milk and sugar.
If you search keto friendly hot chocolate recipes on Google, you'll find plenty of recipes. This is one of my favorites.
9 – Low Carb Smoothies
Smoothies are probably considered to be more of a breakfast than a drink, but if you are looking for a quick on the go breakfast in a glass, then here we go…
Generally when I make a smoothie I start out with a base, then I add greens, two to three good fats, protein, flavoring and sweetness.
These are the general guidelines I follow to guarantee a low carb delicious drink:
For more tips and keto smoothie recipes, check out our: 23 Smoothies that are Delicious and Low Carb.
10 – Keto-Friendly Alcoholic Drinks
It is best not to drink alcohol on the keto diet, especially if you are in the weight loss phase.
But considering that for many of us this is a lifestyle, we do need options.
So, drinking alcohol in moderation is okay if your focus is on fitting it into your macros.
Just do your homework and know which drinks are best and which are worst and should be avoided on a keto diet. For example:
If you focus on clean eating and not just whether it can fit into your macros, then you probably want to limit drinking to special occasions.
For much more detail on the carb count and how alcohol metabolization affects fat burning, check out this Ultimate Keto Alcohol Guide from TasteAholics.
While you are there, you also want to check out their new Keto Cocktails in Five recipe book.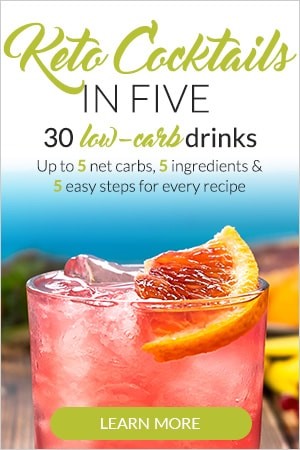 A note of caution. Most people following a ketogenic lifestyle can't tolerate alcohol to the same extent that they could before switching from sugar burning to fat burning. So take it easy!
Lastly net just briefly look at what you should not drink on a keto diet…
What not to Drink on a Keto Diet
There are two types of drinks you want to avoid if you are following the keto way of eating.
The first are high carb and high sugar drinks.
These include:
The second is diet soda.
Many will tell you that diet sodas are fine, because they don't have carbs, but you'll do yourself a favor if you stay away from them. They are usually sweetened with aspartame.
In Conclusion
One of the crucial "rules of keto" is to stay hydrated. So be sure to drink enough water!
Find a clean source of water and find a way to measure how much you drink every day.
Then set yourself up for success, by making sure you have a few of these keto friendly drinks available when you need them.
What do you drink on keto besides water? Please share with us in the comments below…